Employer: What are the different types of childcare?
We have a range of childcare options available on the platform to help you find your ideal caregiver:
►
Nannies:
A nanny travels to your home to look after your children and manages: activities, meals, bath-time and keeping the home tidy. Nannies may do light cleaning jobs, they are however not housekeepers.
Nannies are not required by law to have childcare qualifications, an OFSTED certificate or a DBS check. Whilst most Nannies do have a DBS check, we strongly encourage all families to carefully check their prospective nanny's CV and references, and to interview their prospective nanny.
Most nannies charge more than minimum wage per hour, depending on their experience and qualifications. Salaries are often negotiable with your prospective nanny.
► Shared Care:
 Shared care is sharing a nanny with another family. The fees are divided equally according to the number of children between you. The care alternates between the two households.
For shared care, we recommend that you find a second family with whom you get along with well, with whom you share a similar values, who doesn't live too far from home, and who has the same budget as you. When you have found the ideal second family, all you need to do is to find the perfect nanny!
► Childminders:
A Childminder looks after your children at their own home and must have an OFSTED certificate and DBS check to practise their profession.
Childminders usually care up to four children from different families at the same time. However, the number of children may be higher depending on the size of the Childminder's house and their experience, subject to approval by OFSTED.
Usually Childminder's earn minimum wage and include meals and provisions, however salaries and extra costs can be negotiated between the Childminder and Parent.
The majority of Childminders are signed up to Government Aid schemes meaning parents can save money on their childcare costs when using a Childminder.
► Babysitters:
 A babysitter comes to your home look after your children occasionally. It is usually irregular and for a short period of time.
Babysitters are usually young adults (16+) and are not required to have an OFSTED certificate or a DBS check.
Before employing a babysitter, we recommend interviewing them to make sure you feel comfortable with them!
► Au Pairs:
An Au Pair is a foreign young adult (18+), usually interested in coming to the UK to learn English. Traditionally, an Au Pair will live at your home and take care of your children in exchange for a small salary, lodging, meals and cultural experiences.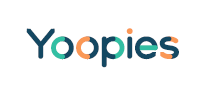 In case you haven't found the answer you're looking for, feel free to contact us at contact@yoopies.co.uk
---
---